Premium residential estate "Life Primorskiy" (first stage development) is a complex of 4 apartment buildings, 10-12 floors each, a nursery school, and a single-floor underground parking.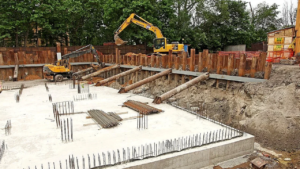 GEOIZOL Project structural engineers designed the project of retaining walls using Larssen sheet piling (and then removing it) and semicircular sheet piling. Our specialists have applied the "island" (benching) method of developing a pit with ground benching and strut anchorages made of steel pipes resting on the foundation plate in the areas where peaty soils are located (areas with a Larsen sheet). The semicircular sheet piling is designed to be extracted; the Larsen sheet piling (the main part) is used without extraction.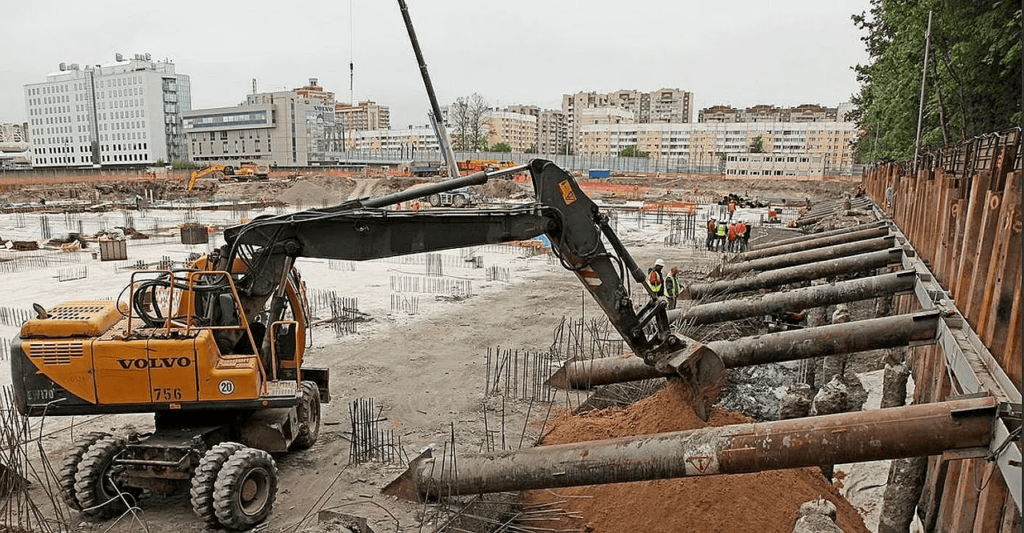 At the same time, the sheet pile screen served as a groundwater cutoff. It prevented the excavation pit from flooding during foundation construction works. 
The construction was complicated by areas of peaty soils, high groundwater on 0.6 – 2.0 m depth level as well as the presence in 30 m area of the following: 
buildings

 

situated at 

Primorskiy

 A

venue, 52, 

korp

. 2, lit. D. and 

Primorskiy

 A

venue, 52, lit. T;

 

a

 detected cultural heritage site "

Petrovskiy

 yacht club" (the 

Altufiev's

 summer house in 19 century) situ

ated at the address 

Primorskiy

 A

venue, 50, lit. A;

 

earth

works

 of the early 19 century (reconstructed in 

the 

late 19 century).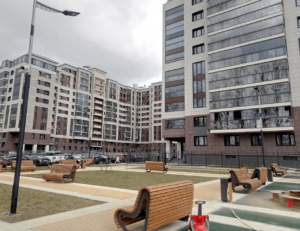 During the construction of the underground part of the site, the following issues had to be solved: 
avoid excee

ding the estimated yiel

d

ing

 values of surrounding buildings;

 

prevent

 the pit from flooding.

 
Project profile: 
excavation

pit gross area: 

21 000 

m

2

;

 

excavation

pit depth:

down to

 4,1 

m

;

 

Larssen

sheet piling length:

180

,8

 

m

;

 

semicircular

sheet piling length: 395,0

m

;

 

sheet

piling immersion depth:

11,2 m

.

 
Customer: Real estate agency "Pioneer" 
Developer: Group of companies "Pioneer" 
General Designer: " Tsitsin's Architecture workshop" 
Implementation: 2013-2016.