Construction of the vibro stone columns according to the Betterground technology is carried out by means of a special device called vibroflot. Vibroflot is the internal vibrator which feeds air and (rarely) water under pressure. Ballast stone is fed through a special drive to the bottom of the hole. The vibrating device forms the body of a drain pile going up the hole step by step.
As the result of deep vibrocompaction the vibrostone columns are constructed in the soil. They are not a separate load bearing element in comparison with reinforced concrete piles. Due to high stiffness and lateral resistance such elements increase load bearing properties of foundations and doesn't prevent natural soil drainage at the same time.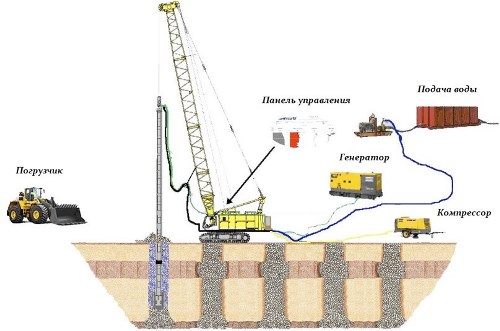 Deep vibrocompaction method allows:
constructing vibro stone columns up to 30 m in depth;
forming the columns 0,6 – 1,5 m in diameter;
performance up to 400 rm per shift.
The possibility to create a diminished column during compaction is one of the features of the technology. Each column can be formed depending on the particular task and soil properties. The parameters of the column are defined at investigation and design stages, quality performance control is carried out during the works on site. Each column is provided with a passport specifying corresponding measurements and its profile.
Practical use of vibro stone piles:
reduction of deformation properties and improvement of load bearing characteristics of base soil;
prevention against soil instability (in seismic areas also);
reduction of construction time by stabilization of bases deformation;
distribution of loads from construction structures located above to solid soil layers.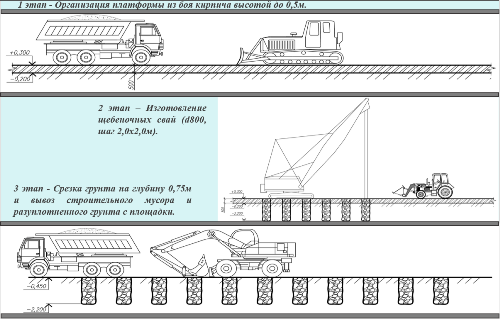 Application of vibro stone columns:
improvement of soil of railways and motorways bases;
approaches to bridgeworks;
drainage of soil under road beds;
stabilization of artificial and natural water pondbanks;
stabilization of washed up areas.
Creating vibro stone columns is one of the potential methods of foundation soil compaction during the construction of oversize logistic clusters and shopping centers.
The advantages of vibro stone columns in comparison with traditional methods:
reduces settlement of foundation soil by 2 – 6 times;
allows cutting the budget significantly due to minimal ground works;
reduces construction lead time.