Rockfall protection system solves one of the key safety issues during operation of infrastructural facilities as well as during construction in the regions where breaking-off and fall of rocks are a major life-threatening hazard.
The latest rockfall protection technologies provide effective solutions for the areas where they have been impossible before or have required high investments.
As a rule, rockfall protection measures are applied in combination with landslide protection systems.
Rockfall protection projects
have become a popular ground protection service. Modern methods of investigation, design and visualization allow making design documentation for terrains of any complexity. The software we use makes it possible to calculate the volume of required construction materials considering specific features of the area.
Methods of rockfall protection
Rockfall protection barriers
Installation of flexible rockfall barriers of different configurations is one of the methods of rockfall protection. As a rule, they are installed along highways and railways in upland areas. This method prevents rocks going down the slope from hitting the infrastructural facilities that are situated in the area of danger.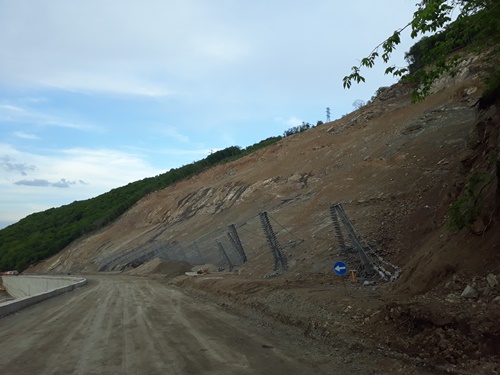 Rock retention and fall-out protection
Retaining big rocks on the mountain slope and preventing them from falling out of the rock mass is another method of rockfall protection. The effect is achieved by installing steel nets of different configurations with land ties which provides adherence of the nets to the slope. An additionally used method is reach-through anchorage of big rocks to the solid rock mass.
Control and handling systems
Rock handling systems are installed to protect territories against rock debris falling from high faces of mountains.
The controlled travel of the rocks after breaking-off and fall out of the rock mass is achieved by installing rockfall protection curtains (nets which adhere to the slope) and rockfall protection barriers on the bottom of the slope. Under this approach rocks falling out of the rock mass slide down the slope (the steel net vectors the direction) without bouncing and changing the path of travel, eventually withheld by rocktrap systems. The supporting wall may serve as a rocktrap system. It serves as a barrier which prevents rocks against rolling out on the infrastructural facilities.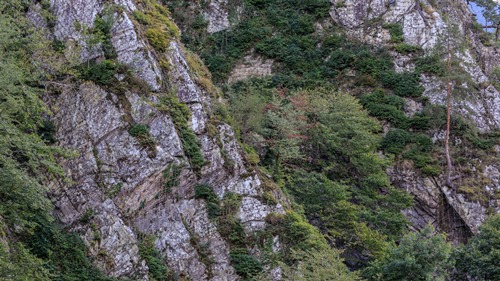 Rockfall protection galleries

Rockfall protection galleries are massive reinforced concrete structures above highways or railways that are built in upland areas with high level of rockfall hazards.