GEOIZOL-MP, a multifunctional geotechnical system, is a type of root micropiles constructed by simultaneous drilling and injecting cement grout.
Classification of functions of the geotechnical system GEOIZOL MP:
Soil nails take up the loads that occur on the edge of a landslide body and a stable part of the slope, i.e. they connect unstable soil layers with lower more stable ones;
Anchors prevent pulling out and are built in the framework or structure by slant drilling and stretching a steel bar (if required);
Root piles receive pressing, pullout, shifting and alternate load.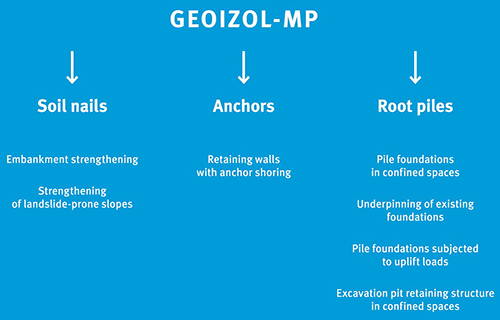 The tasks to be solved:
minimizing the risk of soil and supporting wall shifting (anchorage);
preventing active landslide process (nail fixation);
being an important element during restoration of foundations (piles);
acting as a separate pile foundation.
Spheres of application:
building objects in mountainous areas;
preventing landslides and falling out of pit walls (of industrial enterprises);
foundations of electricity tower supports and tower-like structures;
bank stabilization;
retaining structures when constructing buildings and facilities;
performing embankments and undercuts in areas with a significant earth slope;
reconstructing and restoration of buildings and facilities, that is adopting micropiles underneath the foundation.
Advantages:
relatively small dimensions of boring machines;
possibility to use in dense conditions;
possibility to do underpinning works;
assembling the foundation for technical equipment with no interruption of technological processes;
easy delivery of the equipment to rough areas;
possibility to carry out boring works on a mountain face;
preserving free traffic during performance of works on highways and railways;
eliminating ground works during improvement of existing embankments;
uneven side surface provides maximum bonding to the soil and prevents shifting of the head after loading the structure;
lowest price due to cutting down labor intensity and reduction of time for installation of the system by means of combining the construction stages into a single cycle;
efficient work in wide range of soil conditions;
absence of vibration impact;
multiple options.
Technological features of installation
GEOIZOL-MP root piles are installed by means of special mobile MGBU-100 and MGBU-200-based (small-sized drilling machine) equipment and by fastening the GEOIZOL-MP system to a dipper handle or by means of specialized self-propelled machines.
The multifunctional geotechnical system GEOIZOL-MP consists of a centrally located loadbearing element in the form of a steel screw drill pipe, sleeves, centralizers and a drilling bit.
The diameter of steel drill pipes ranges between 30 and 135 mm thus providing a wide choice of options of the system to be installed. There is also the possibility to increase the length of root piles up to the desired value by means of sleeves.
The installation of micropiles is performed in one pass. The central drill with drilling bit is also a drilling tool and remains in the hole after settling down. At the first stage of works the washing cement mixture (stabilizes the sides of the hole and prevents them from crumbling) is fed through the drill pipe under pressure. After the planned drilling depth is achieved, the cement mixture, which fills the hole and becomes the body of the micropile, is fed through the drilling bit (without extracting the drill pipe from the hole). The centralizers situated along the pile with a given span provide a protecting coating of cement.
GEOIZOL-MP system is developed by specialists of GEOIZOL group of companies and is manufactured at a subsidiary enterprise, Pushkin machine-building factory.