Saint Petersburg is situated on weak and water-logged moraine soils formed by glacier deposits. Loss of foundation carrying capacity leads to cracks in the above ground parts of buildings followed by further destruction of the buildings.
Types of anthropogenic impact on foundations:
irrigation, leads to the damage of rubble stone foundation;
sewage runoff, leads to destruction of chalky bonding solution;
load increase, happens due to substitution of wooden floor for concrete floor and appearance of offices with good publicity.
Types of works:
carrying out engineering and geological research during reconstruction and restoration of buildings;
recording the changes in soil properties.
Design techniques for foundation underpinning listed in the ascending order of their application frequency:
increasing the area of a foundations base as the easiest method of underpinning;
grouting represents the first stage in the set of underpinning measures;
adapting a plate underneath building;
adapting piles underneath foundation.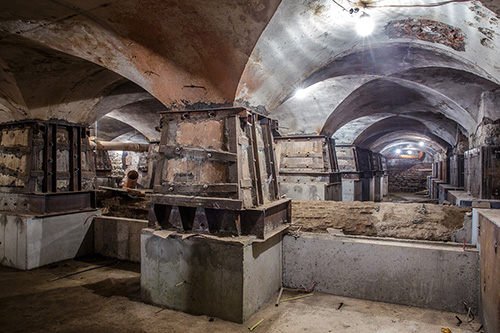 Foundation underpinning by means of root piles
All the problems with base soil improvement can be solved by means of piling technology. Piles transmit the load to firm soils which are situated (on the average in Saint Petersburg) on 10 meter depth.
There is a thick layer of blue Cambrian clay almost everywhere in Saint Petersburg. In the southern part of the city it lies about 5 meters below the ground surface. Closer to the Neva it lies about 25-30 meters below the surface. The pile is bored up to this thick layer and transmits the loads from building to the layer.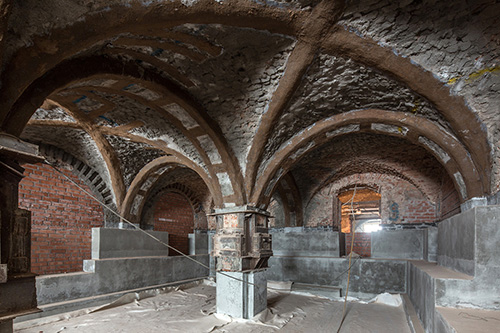 Ways of transmitting load to the foundation by means of piles:
Batter piles, are designed angle-wise through the foundation. This way the pile grips and grapples by itself.
Plumb piles, are designed in case it is impossible to construct batter piles. They are constructed on each side of the foundation as close as possible. The binding beam between them transmits load to the foundation. Such system is tied up with additional beams. There are a lot of schemes and combinations of piles and beams.
Foundation underpinning by means of GEOIZOL-MP anchoring system has been included to the projects and implemented for a long time. The unique advantage of the technology is that it is possible to carry out piling works by means of a small-sized mobile machine weighing under 200 kg.
GEOIZOL-MP anchoring system is a boring assembly, the tool that feeds solution to the borehole and a reinforcement element of a root pile at the same time. Stems are easily connected together by sockets.