Mudslides are a short-time natural disaster, a torrential stream channel (2-20 m/sec) which consists of mixture of water and solid rocks, mineral grains, trees, etc.
Installation of the flexible mudslide barriers reduces the risk of damaging the economic facilities, people's lives, eliminates formation of mudslides down the valley. The crucial significance for assuring of their performance is quality installation and regular monitoring.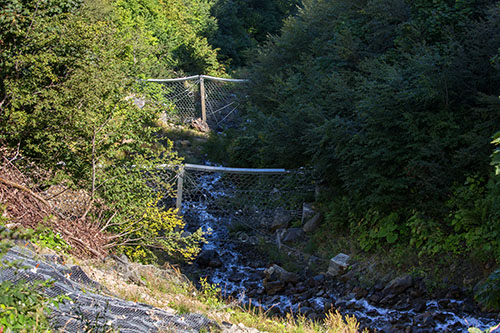 Installation of flexible mudslide barriers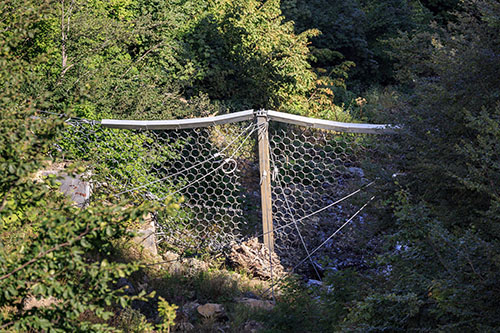 A flexible mudslide barrier consists of:
high-strength barrier (chained net or high-strength rope net);
supports/posts and foundations anchored to a slope;
load bearing ropes.
Mudslide barriers are installed across the channel and may be located both as a single unit and a cascade. The distance for water flow and wild animals free pass is projected between the barrier lower end and channel bottom (water drain). When mudslide goes down, the chained net retains its solid parts and due to its structure absorbs the flow energy.
One of the key features of flexible mudslide barriers is their ability to bear multiple impacts of a natural disaster.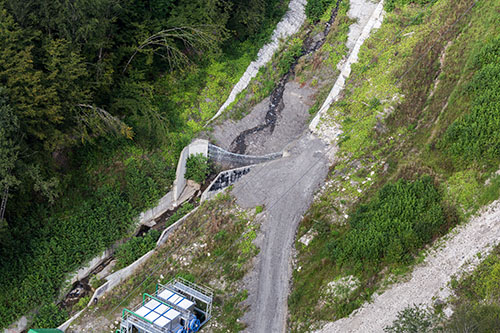 Types of flexible mudslide barriers
Operating barriers. After mudslide it is necessary to clear and maintain mudslide barriers changing the consumables. They are mainly used in the final part of mudslide flow.
The clearance of mudslide debris may be both mechanical and manual. After observing nets and load bearing ropes for operational ability, the mudslide barrier is ready to perform its functions in the full scope.
Nonoperating barriers are mainly used in mudslide formation areas without further clearance.
Similar structures may be applied in rivers and streams where timber drifts but without mudflow.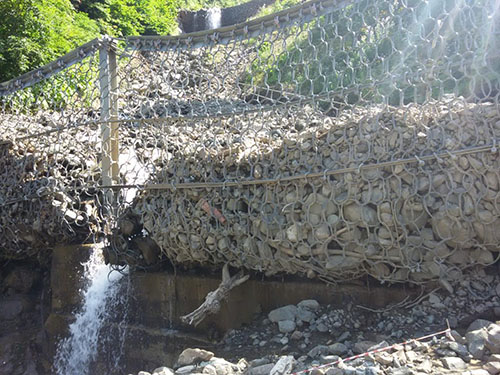 Advantages of flexible mudslide barriers compared to firm barriers:
simple design and low assembly time;
cost efficiency;
multiple use (flexible barriers have a damping tool for absorbing the mudflow and don't lose their performance abilities);
ecological performance (suit the landscape perfectly with no damage and changes).