Geosynthetic systems and materials are applicable in the construction of a wide range of infrastructural objects. There are plenty of options and solutions at the moment.
Geosynthetic materials used for building reinforced earth embankments
For reinforced earth embankments
Geowebs;
For dispersive soil;
For cohesive soil;
Decorative panels made of geosynthetic materials.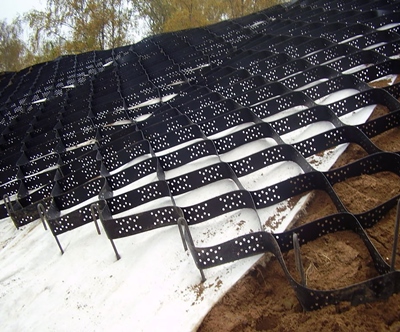 Geowebs are flat high-endurance webs with different shaped meshes (rectangular more often). They are used to stabilize the ground by means of reinforcement. Geowebs are classified depending on the way of contacting the soil: for dispersive and cohesive soil.
Decorative panels made of synthetic materials are used as front panels for reinforced embankments. They can be manufactured from metal or natural stone.
Geosynthetic materials used for water disposal and drainage
Geofabrics of different density;
Composit geosynthetic-based drain materials.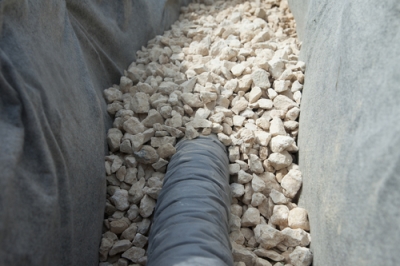 Geofabrics are used in the set of measures for drainage construction as well as water disposal on a construction site. This material plays the key role in preventing subsoil erosion. Depending on the purpose of the object both standard and specialized (nonwoven or needle-punch) geofabrics are used.
Composite geosynthetic-based drain materials as well as the materials with bigger mesh are alternative to geofabrics. Such systems consist of one or two layers which are interlaid with 3D structure that transmits big volumes of water. More often composite geosynthetic-based drain materials are used for constructing the layer type or vertical drainage, in other words for different layer structures.
Geosynthetic materials used for erosion protection
For ersion protection:
Anti-erosion materials;
Fillable items;
Big bags;
Items filled with concrete;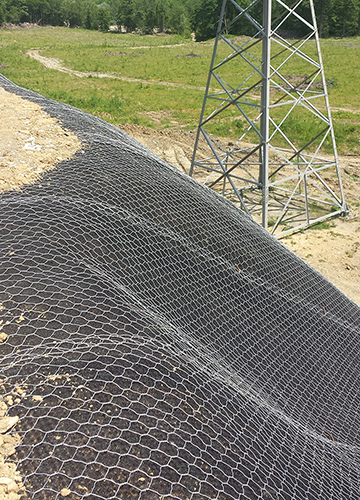 Anti-erosion geosynthetics
These are different nonwoven materials represented by geowebs, geofabrics, membranes, nets, etc. Such systems protect ground surface against blowing out and further destruction.
Fillable geosynthetics are kinds of containers made of industrial cloth that can be filled with local soil, concrete or other materials: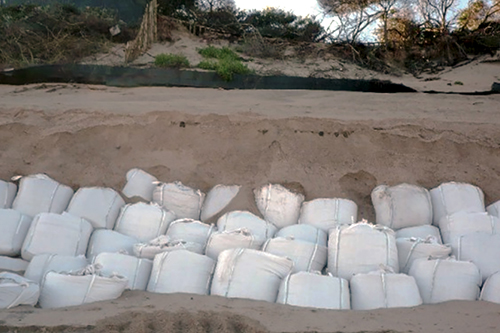 Big bags are filled with soil and laid as brickwork. The capacity of an item is 1 – 2 cubic meters.
Items filled with concrete represent mats filled with concrete pressing the soil tightly. They are spread on the surface and are filled with fine grain concrete through the concrete pump thus forming a solid concrete mattress.